One of the best choices for social trading
Huge selection of Contracts for Difference (CFDs)
Use the bespoke and popular Webtrader trading platform on your computer, smartphone or surf pad. Mobile apps available for both iOS and Android.
Get the conventient eToro cryptocurrency wallet in the form of a mobile app
eToro is headquartered in Israel, but have offices and subsidiaries in many other parts of the world to provide safe and secure trading in accordance with local laws and legal frameworks.
Social trading
At eToro, you can follow other traders and copy their trades, with parameters set by you.
You can also elect to copy existing portfolios instead of building your own from scratch.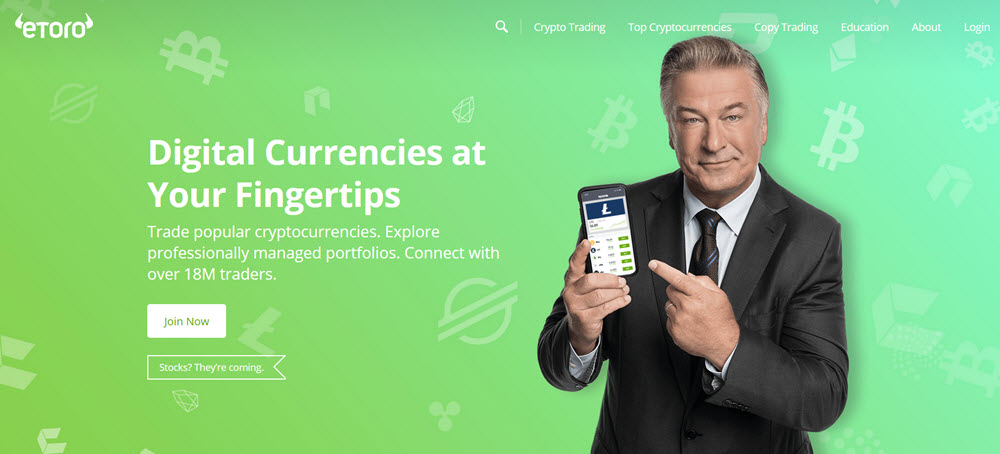 The Popular Investor program
Several conditions must be fulfilled for you to enter the Popular Investor program and start earning perks (such as spread rebates).
A few examples of requirements:
Deposit a minomum of 1,000 USD.
Recrute at least one follower who copies you for at least 2 months with at least 500 USD in equity or finance.
For more information about the details, visit eToro.
CFDs and their underlying assets
You can trade in a multitude of Contract for Difference (CFDs) at the eToro Webtrader platform. Through these CFDs, you can gain exposure to stock prices, FX currency exchange rates, cryptocurrency exchange rates, Exchange Traded Funds (ETFs), commodity prices, indices, and more. Among other things, shares from over 950 different stock companies are represented.
Trading hours
Currency trading is active around the clock.
For certain other products, such as CFDs based on share prices, trading is active when the share is traded. A CFD based on a share listed at Nasdaq will thus trade during Nasdaq trading hours, and so on.
Demo Account vs Standard Account
There are two account types available at eToro: the Demo Account and the Standard Account.
All real-money trades takes place in an eToro Standard Account. You need to deposit a minimum of 200 USD to use a real-money account. (Special rules apply for traders in the United States.)
The Demo Account is for play-money trades. It is a great way to get to know the Webtrader trading platform and test out investment strategies without risking any real money. You do not need to many any deposit to open a Demo Account.
Is leveraged trading possible at eToro?
Yes. The largest possible leverage is 1:30. Local laws can limit this further.
When you engage i leveraged trades, you borrow money from eToro and risk it. It is possible to end up owing more money to eToro than you ever hand in your account. It is a risky strategy and not recommended for novice traders. Never risk money you can not afford to pay back to eToro.
Technical analysis
The eToro Webtrader platform includes a lot of tools and market data for Technical Analysis.
The eToro cryptocurrency e-wallet apps
With an on-chain e-wallet from eToro, you can store your cryptocurrency and also convert cryptocurrency into fiat currency and vice versa. The e-wallet is an app for mobile devices. There is one version for iOS and another one for Android.
The eToro e-wallet supports multiple cryptocurrencies, including Bitcoin, Litecoin and Ethereum.
For increased security, opt for the multi-signature sign in feature.
Customer support
eToro offers customer support through email. Use the support form at the eToro site.
Emails are answered around the clock during weekdays, but never on weekends.
Deposits & Withdrawals
Examples of accepted transaction methods are VISA, MasterCard, Diners, Bank Wire Transfer, Skrill, WebMoney, Neteller, PayPal, China Union Pay, Yandex.
The smallest possible deposit is 200 USD. (Exception: Traders in the United States can deposit 50 USD.)
Your selected transaction method will determine how small withdrawals you can make. Also, keep in mind that eToro charges a 5 USD withdrawal fee, so making many small withdrawals will put a dent in your budget. Charges for currency conversion (e.g. USD to EUR) can also apply to withdrawals.
Withdrawal requests will typically need at least three days to be processed by eToro. Don´t keep money in your eToro account that you may need quick access to.