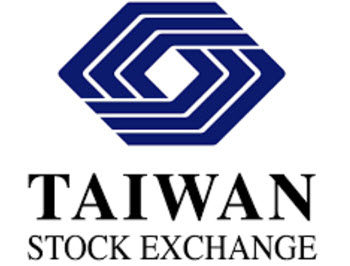 The Tawain Stock Exchange (TWSE) was founded in 1961 and trading commenced on 9 February 1962. It is owned by the Taiwan Stock Exchange Corporation (Táiwān Zhèngquàn Jiāoyì Suǒ).
Despite being less than 36,200 km2 in size, Taiwan is the 21st largest economy in the world, largely due to it high-tech industry. The Taiwan Economic Miracle refers to the rapid industrialization and economic growth of Taiwan during the latter half of the twentieth century. In the 1980s and early 1990s, Taiwan transitioned from one-party military dictatorship to a multi-party system with universal suffrage. Taiwan is a member of the World Trade Organization, but does not have a seat in the United Nations. The People's Republic of China asserts that Taiwan is a province of China.
Short facts about the Taiwan Stock Exchange Corporation
| | |
| --- | --- |
| Name in English | Taiwan Stock Exchange (TWSE) |
| Location | Taipei, Taiwan |
| Currency | New Taiwan Dollar |
| Founded | 23 October 1961 |
| Owner | Taiwan Stock Exchange Corporation |
Trading hours for the centralized market
Trading takes place Monday through Friday, except for holidays announced by the exchange in advance.
Trading Sessions
Order Placing Hours
Trading Hours
Regular Trading
8:30-13:30
09:00-13:30
After-hour Fixed Price Trading
14:00-14:30
14:30
Odd-lot Trading
13:40-14:30
14:30
Block Trading
Non-paired Trade
09:00-17:00
09:00-17:00
Paired Trade
08:00-08:30
09:00-17:00
08:00-08:30
09:00-17:00
Auction
15:00-16:00
After 16:00
Tender Offer
15:00-16:00
After 16:00
Physical location
The Taiwan Stock Exchange is found in the famous Taipei 101 skyscraper in the Xinyi District of Taipei City, Taiwan. The Xinyi District is home to the Taipei mayor's office and the Taipei City Government, and it is also the chief financial district of Taipei.
Taipei 101, formerly known as the Taipei World Financial Center, is a 101-story building constructed in 1999 – 2004. Until the completion of Burj Khalifa in Dubai, Taipei 101 was the tallest building in the world. Architecturally, Taipei 101 serves as a symbol of the the evolution of technology and Asian tradition. It is designed to withstand typhoons and earthquakes.
TAIEX
The most well-known index based on TWSE is the Taiwan Capitalization Weighted Stock Index (TAIEX). This index tracks all stocks listed on TWSE, except for preferred stocks, full-delivery stocks and stocks that has been listed for less than one calendar month.
TAIEX was first published in 1967. The base year is 1966.
Notable milestones in the history of TWSE
23 October 1961

The Taiwan Stock Exchange is formed

9 February 1962

The exchange officially opens for business.

1 September 1976

Clearing and settlement moves to electronic systems.

29 September 1988

All stock trading migrates to the semi-automated Computer-Assisted Trading System (CATS).

2 August 1993

All stock trading migrates to the Fully Automated Securities Trading (FAST) system.

5 January 1994

Day trading in margin accounts is now allowed.

4 September 1997

TWSE launches its first call warrants.

17 October 1997

Online trading is now available for investors.

1 July 2002

TWSE removes the "two-tick" up/down tick rule

TWSE adopts intraday volatility interruption

30 June 2003

The Taiwan 50 Index is licensed for the creation of Taiwan's first exchange traded fund (ETF)

14 July 2004

Premiere for warrants issued over the Taiwan Top 50 EFT

14 August 2009

Launch of TWSE's first two listed cross-border ETFs (Hang Seng H-share Index ETF and Hang Seng Index ETF)

18 May 2010

For the first time ever, a foreign company is listed on TWSE. It is the USA-based Integrated Memory Logic Limited (IML).

26 September 2011

The first QFII ETF investing directly into China A-shares is listed on TWSE.

9 September 2013

Pilot program launched permitting dealers to trade at the price bands within the daily fluctuation limit. (This program was eventually made permanent in 2014.)

6 January 2014

The Buy-First-Sell-Later scheme is launched.

July 31 2014

The exchange lists its first 10 extendable warrants.

29 December 2014

The call auction order matching interval is shortened to 5 seconds.