Plus500 is an interesting option online if you are looking to trade in Contracts for Difference rather than owning shares, options, etcetera outright. The Contracts for Difference (CFDs) offered by Plus500 makes it very easy to speculate on the market price movements of underlying assets such as shares, exchange traded funds, options, foreign currency, cryptocurrency, commodities, and more. You can even speculate on the movements of indices (indexes).
One of the many reasons why CFDs have become so popular is that they work so well even when markets are moving downwards. You speculate on price movements, rather than going by the traditional method of buying an asset and hoping for it to appreciate. If you never liked the comlicated and risky hoops required for short-selling assets, CFDs might be the thing for you.
The trading platform
The Plus500 trading platform is named Webtrader. It is a bespoke platform, created specifically for Plus500. It contains a lot of features, but is not confusing to use. You can try it out for free with play-money if you register for a Plus500 Demo Account.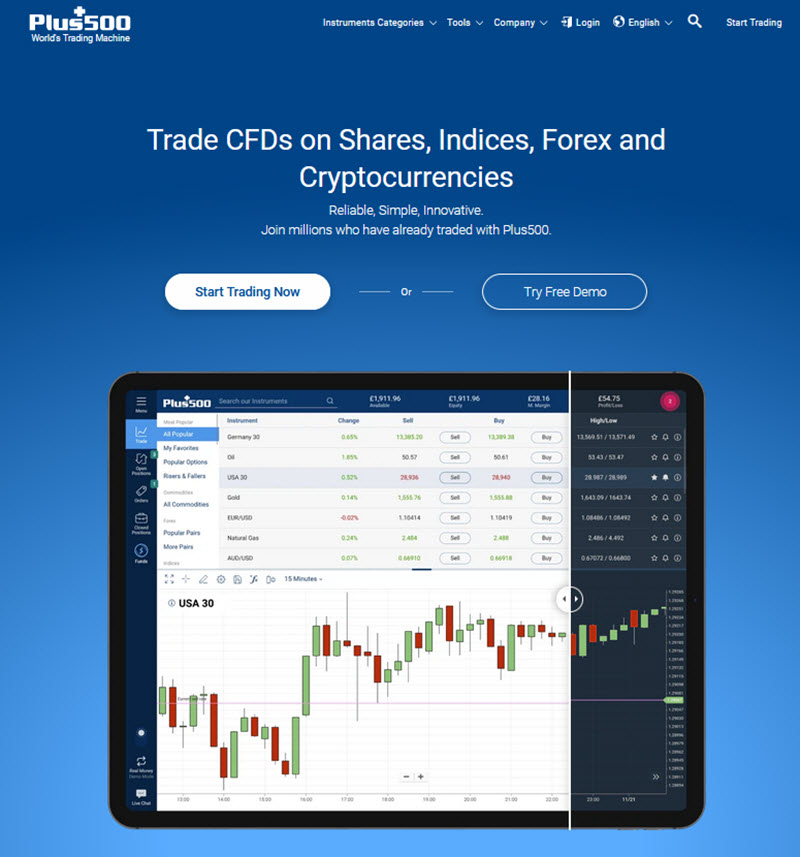 Mobile apps
Plus500 have launched mobile apps for both Android and iOS. You find them at Google Play and the Apple App Store, respectively. Both apps works well on smartphones and surf pads, and you get access to the standard Webtrader features.
The Plus500 trading apps are available in 30+ different languages, including English, German, French, Spanish, Greek, Italian, Finnish, Danish, Swedish, Estonian, Russian, Romanian, Hebrew, Arabic, and Chinese.
Leveraged trading
Plus500 offers leveraged trading up to 1:300. In some parts of the world, the leverages are smaller due to local legal restrictions.
Customer support
You can send an email or use the live chat. There is no phone support. The Plus500 support is staffed 24/7.
Deposits & Withdrawals
You can for instance use PayPal, Skrill, VISA, MasterCard or bank transfer.
Smallest accepted deposit is 100 USD.
Smallest possible withdrawal depends on the transaction method. Expect at least 3 days for processing once you have sent in your withdrawal request. Plus500 does not charge a withdrawal fee.
About Plus500
Plus500 was founded in 2008 by six alumni of the Technion – Israel Institute of Technology.
The original trading platform was only availabel for download (for Windows), but a web based version was launched in 2010. The first mobile app was released in 2011, and was for iOS only. The first Android app followed in 2012.
The parent company of the Plus500 group is the British-based Plus500 Ltd. It has been listed on the London Stock Exchange´s Main Market since July 2018. The ticker is PLUS. PLUS is a constituent of the FTSE 250 Index.
Plus500 have officies and subsidiares in many different parts of the world, including Great Britain, Cyprus, Bulgaria, Israel, Australia, Hong Kong and Singapore. Through its subsidiares, Plus500 hold licenses from various authorities, including the UK Financial Conduct Authority (FCA),] the Cyprus Securities and Exchange Commission (CySEC), the Australian Securities and Investments Commission (ASIC), the Monetary Authority of Singapore (MAS), and the Israel Securities Authority (ISA)